Recovery after Arm Lift Surgery: What to Expect
By Dennis Hurwitz on February 24, 2015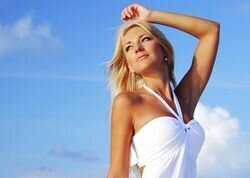 The aging process and significant weight gain or weight loss can cause the appearance of the face and body to change dramatically. The upper arm is not immune to these changes; this area can become affected by excess, loose skin. If you are unhappy with the look and shape of your upper arms, you may be a good candidate for brachioplasty, which is also known as an arm lift. At Pittsburgh Center for Plastic Surgery, arm lift surgery is one of many cosmetic procedures we offer to our Pittsburgh patients. But what can you expect as you recover following your surgery?
What to Expect Immediately after Surgery
When you awake from surgery, your arms will be wrapped in compression bandages. A drainage tube may be attached to the area near the incision to reduce swelling and encourage the removal of any excess fluids during the healing process.
You may experience some discomfort or pain after the procedure. This is normal, and most patients report that the pain is tolerable and that pain medication is only needed for a few days after surgery. If you experience significant pain, or other red flags such as fever, nausea, redness, or tenderness at the incision site, alert your doctor right away, as this could be the sign of an infection or complication. You will be given instructions on pain medication and wound care before being sent home.
After your surgery, it is important to make sure that you have someone to drive you home, as it will not be safe or comfortable for you to drive yourself immediately after surgery. In addition, it is ideal to have a friend or loved one who can assist you with daily tasks for the first few days after surgery.
Caring for Your Incisions Post-Surgery
Patients should exercise caution and avoid heavy activity for the first few weeks after arm lift surgery. Sudden strenuous movements can increase the risk of unfavorable scarring or cause the incision site to re-open, hindering and prolonging the healing process. Your incisions will start to fully heal within two weeks, and up until this time it is important to avoid heavy lifting or upper body exercise like weight training or contact sports. During this time, you may also consider wearing compression sleeves or a compression vest to reduce swelling and encourage the healing process.
Results after Surgery
You should start seeing results after a couple of weeks as swelling goes down. Full results should be seen about six weeks after surgery. You should expect some scarring after surgery, though the extent of scarring depends on the extent of the surgery. During healing, your doctor may discuss techniques to reduce swelling and the appearance of scarring.
Learn More about Arm Lift Surgery
If you are considering arm lift surgery, now is the time to discuss any concerns or questions about treatment and recovery with your doctor. Contact our cosmetic surgery center today to schedule a consultation and discuss what arm lift surgery can do for you. 
"

I honestly never thought of myself as a serious candidate for elective surgery ... but I'm already feeling and looking so much better.*

" Jill's Story