Which Breast Implant Profile Is Right for You?
By Dennis Hurwitz on January 28, 2014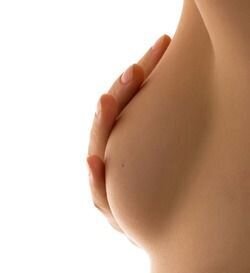 Even before consulting a doctor about a potential breast augmentation, patients often already have an idea of what size implants they want. With a little research, many patients also know whether they want saline or silicone implants. While this is a great start, another important but lesser known factor to consider is the implant's profile, which can greatly influence the procedure's overall results.  
We want our Pittsburgh patients to make informed, appropriate decisions about treatment that will lead to superior and long-lasting results. Before undergoing breast surgery, learn how an implant's profile can affect its appearance, and which option may be right for you.
What Is an Implant Profile?
When discussing the various types and shapes of implants available, the implant's profile refers to how far outward it projects from the chest. Implants with high profiles are shaped in a way that gives them greater depth, while low profiles have greater width. Each degree of projection can provide varying benefits to patients, depending on a woman's individual body type and goals for augmentation.
It's also important to note that while higher profile implants may look fuller, they contain the same amount of filler material as lower-profile implants of the same size. Profile differences are therefore not a matter of volume, but rather how the volume is distributed. For this reason, the size, profile, and type of implant should all be factored together for an accurate expectation of your results. 
Types of Profiles
Most implants are available in three or four types of profiles, ranging from low to high projections. Depending on the company, the labels for different profiles may vary, but are typically comparable in form:
Lower profiles: A low profile equates to a wider base and flatter appearance. This profile is best for filling out the sides of breasts, and is a good choice for women with a wide breast base to support them.
Moderate profiles: As a standard compromise between width and height, moderate profiles provide a balance for most body types. These are a good choice for women looking to increase silhouette curvature while still maintaining natural cleavage and general fullness.
Higher profiles: High profiles can produce the greatest amount of projection, creating fullness in the upper pole of the breast. In exchange, the implant is narrower, having little impact on the breasts' sides or base. This profile is a good choice for women who want to further increase their cup size.
Choosing the Right Profile
Although aesthetic preference plays a role in which profile to use, a patient's body type should also be taken into consideration. If an implant's profile is disproportionate to the dimensions of the breast and chest, the plastic surgery may appear "fake" or result in complications. For example, a woman with relatively small breasts and a wide breast base would not do well with high profiled implants. Not only would they appear overly spherical, but they might also result in skin rippling from a lack of volume at the sides. On the other hand, low profiled implants on a narrow breast base can stretch the skin and tissues, damaging the breast and creating an unnatural shape.
Ultimately, the best choice for your implants is one that takes all factors into account. By consulting your doctor, you can arrive at an informed decision about which implant is best for you - both cosmetically and medically. 
Come In for a Consultation
Before deciding on the specifics of your surgery, come in for an in-depth consultation. Contact our office to learn more about our options for breast implants, and to schedule an appointment with Dr. Hurwitz.