What to Expect from Abdominal Liposuction
By Dennis Hurwitz on November 21, 2013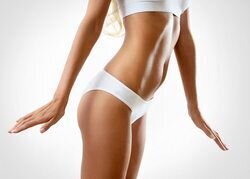 Of all the plastic surgery treatments in America, liposuction is one of the most popular. And when looking to get rid of excess fat, the stomach is often the first area that comes to mind. This body contouring treatment allows patients to shed the stubborn fat around their abdomen, helping them achieve the curves and confidence they desire.
Our Pittsburgh patients are often extremely satisfied with the results of their abdominal liposuction, thanks to the experience and skill of Dr. Hurwitz. If you are considering liposuction of the stomach, here's what you should know about this rewarding cosmetic treatment.
Why Get Abdominal Liposuction?
The best candidates for liposuction of the stomach are those who have tried to shed pockets of fat from around the abdomen, but cannot achieve the desired results on their own. With liposuction, patients can finally remove excess fat tissue, producing tighter, smoother curves at their stomach and waist. By following up with a healthy lifestyle, these changes can be long lasting and continually satisfying.
Patients who opt for this procedure are often looking to counteract any of the following factors of fat accumulation:
Lifestyle: Due to someone's lifestyle, which may restrict physical activity or diet, excess fat may be an unfortunate consequence. Although an eventual change in habit will make liposuction most effective, an initial procedure can at least get you started in a new direction.
Genetics: Everyone's body handles fat and weight distribution differently. For some people, it is inherently more difficult to accomplish their physical goals. Body contouring is an effective way of leveling the playing field for such genetic discrepancies.
Age: The average American gains a pound per year, starting in his or her 20s. Age can eventually play a major role in one's body shape, and liposuction is a great defense against the gradual addition of stomach fat.
Pregnancy: After pregnancy, women may have trouble losing the fat their body had stored, particularly in the stomach, waist, and hips. Mothers who undergo liposuction, sometimes in combination with a tummy tuck, are generally very happy with their results.  
The Liposuction Procedure
Dr.Hurwitz utilizes both traditional liposuction and ultrasound-assisted liposuction techniques. In a traditional liposuction procedure, small incisions are made in the abdominal area, into which an anesthetic will be injected. A small tube, called a cannula, will then be inserted and used to simultaneously break up fat tissue and remove it. With the remaining fat, muscle, and connective tissues, the area will be contoured to a more desirable look.
In ultrasound-assisted liposuction, the procedure can be enhanced by using ultrasound energy to break up fat cells before their removal. This assists the surgeon in the contouring process, while also allowing for less trauma to the body by minimal movement of the cannula.
By speaking with your doctor, you can gain a better understanding of which procedure will yield the best results for you.
Benefits and Risks
Depending on where you have excess fat, abdominal liposuction can improve that area to better complement your body. If fat is primarily concentrated in the lower stomach or sides, removal can be confined to either of those areas. For most of our patients, the best looking results are produced by a combination of liposuction in the lower abdomen, upper abdomen, and waist.
After surgery, many patients express lasting satisfaction with their bodies. Liposuction of the stomach can jumpstart a new lifestyle: the ability to wear new clothes, gain a new sense of confidence, and continue forming healthy habits.
With any surgery, however, certain risks are involved. Infection is a common concern for plastic surgery procedures, although this can largely be avoided through antibiotics and proper care during recovery. Swelling, bruising, and discomfort are also side effects that can be expected, usually subsiding within the first week or two. For additional concerns about surgery or possible risk factors for your health, speak with your doctor prior to the procedure.  
Consult Dr. Hurwitz
To learn more about abdominal liposuction or additional plastic surgery procedures offered at our Pittsburgh office, set up a consultation with Dr. Hurwitz. Call or email our office today to receive further information and set up an appointment.
"

I honestly never thought of myself as a serious candidate for elective surgery ... but I'm already feeling and looking so much better.*

" Jill's Story