What Are Tummy Tuck Drains and Why Are They Necessary?
By Dennis Hurwitz on March 26, 2014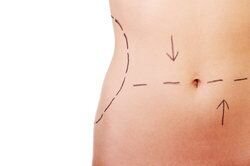 Throughout a career that has spanned nearly four decades, Dr. Dennis Hurwitz has championed patient education. Of course, he wants you to know about the many benefits associated with abdominoplasty, better known as tummy tuck surgery, and other advanced plastic surgery procedures. But he also wants you to know the risks involved with these procedures as well as what is required of you both before and after your surgery. The best patient is a fully informed patient who is able to make educated, confident decisions regarding his or her plastic surgery treatment.
At The Pittsburgh Center for Plastic Surgery in Pittsburgh, tummy tuck drains are among the topics discussed during initial consultations with patients interested in abdominoplasty. The following blog post provides some basic information about these drains and why they are necessary. Further information can be obtained by speaking with Dr. Hurwitz and his team at one of his four office locations.
What Is a Tummy Tuck Drain?
During the post-surgical healing phase, the body naturally produces fluids, some of which are excess to the body's needs and must be drained off to promote proper and comfortable healing. To accomplish this, Dr. Hurwitz uses surgical drains, which are clear tubes with small bulbs at one end. The bulbs collect the excess fluid and are to be emptied at regular intervals. Prior to being emptied, they are to be squeezed gently to aid in draining fluids.
Depending on the scope of your tummy tuck surgery and your body type, Dr. Hurwitz may insert either one or two drains. These drains are placed strategically in incision sites created just below your tummy tuck incisions, and the bulbs are pinned to your clothing or a belt.
How Long Are the Drains Needed?
Again, depending on the scope of your tummy tuck and how your body heals, you may need to use the drains for as few as five days or as many as 14. If you require two drains, it may be possible to remove one earlier than the other. You will be asked to track the amount of fluid collected in the bulbs each day, which will help Dr. Hurwitz to determine when they can be safely removed.
Why Are the Drains Necessary?
The collections of fluids in the body after surgery are called seromas. Draining these fluids allows for quicker recovery and the avoidance of unwanted bulges in your post-surgical contours. The drains can also help Dr. Hurwitz identify any problems that develop after surgery, such as post-operative bleeding.
The use of post-operative drains represents just one element of your recovery plan. Dr. Hurwitz will provide you with detailed instructions on what you can and cannot do, along with timelines and expectations for post-operative follow-up appointments, before you undergo tummy tuck surgery. Following his instructions to the letter will help to ensure a quick, comfortable healing period and the ultimate achievement of the results you crave.
Contact The Pittsburgh Center for Plastic Surgery
To learn more about tummy tuck recovery or drains in particular, please contact The Pittsburgh Center for Plastic Surgery today.
"

I honestly never thought of myself as a serious candidate for elective surgery ... but I'm already feeling and looking so much better.*

" Jill's Story