Treatments for Nasolabial Folds: Reverse the Signs of Aging
By Dennis Hurwitz on May 20, 2014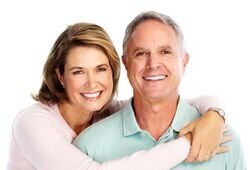 Nasolabial folds may be called laugh lines, but for most of us, there is nothing to smile about. Nasolabial folds are the facial lines that extend from the corners of the nose to corners of the mouth.
Laugh lines are an early sign of aging. As we get older, the production of collagen and elastin slows down. Our face sags and the laugh lines that occur naturally when we smile, become permanent fixtures on our faces. As we get older, the lines get deeper.
This is the point when you may turn to a plastic surgeon for a remedy. Since 1977, Dr. Dennis Hurwitz has devoted his life to facial plastic and body contouring surgery in Pittsburgh. For nasolabial folds treatment, his patients have their choice of a variety of treatments tailored to their needs, including injectable fillers or facelifts.
Using Injectables on Smile Lines
Injectable fillers offer a quick solution to nasolabial folds by plumping surface depressions and furrows, including smile lines. Fillers can also add volume to the upper checks, which restores a more youthful contour to the face while also alleviating some sagging around the mouth.
There are many types of fillers on the market and Dr. Hurwitz will examine your face to determine which type is best suited for your problems.
A downside to most fillers is that the effects are temporary. You will need repeated injections over time and the amount injected may need to increase as you age and the smile lines become deeper. If you lose weight, you may also need more filler.
The Facelift Solution
For people who are younger, fillers are frequently good starting points. However, as you age and your face loses more volume, you will find that additional filler will be needed to achieve the same smoothing effect. Repeated injections at increasing amounts may leave you searching for a more permanent solution, such as a facelift. 
A facelift allows you to reset the clock to an earlier age when your nasolabial folds were not a permanent fixture on your face. In addition to easing smile lines, a facelift has the added benefit of erasing other telltale signs of aging, such as jowls along the chin line and sagging necks.
During a traditional facelift, the skin is lifted off the face and sagging muscles underneath are lifted and tightened. When the skin is replaced, it is smoothed across your new contours and the excess, sagging skin is removed.
Facelifts come in a spectrum of variations for different parts of the face, allowing you to target nasolabial folds and other problem areas. If you do not need extensive work, newer facelift treatments are not as invasive as a traditional facelift, allowing for quicker recovery and smaller scars.
Questions?
Advances in the treatment of nasolabial folds can make the process of deciding on a treatment more confusing. We suggest you request an appointment with Dr. Hurwitz, who will examine your face and explain which treatments will target your problem areas.
Please contact us today for an appointment.
"

I honestly never thought of myself as a serious candidate for elective surgery ... but I'm already feeling and looking so much better.*

" Jill's Story