The Recovery Timeline for Breast Reduction Surgery
By Dennis Hurwitz on April 26, 2014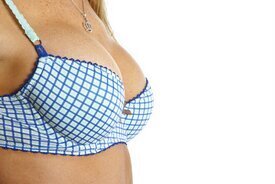 There are plenty of options out there to consider if you would like to improve your body contour and look your very best. That is one of the best things about modern surgical advances: there are many plastic surgery options that can meet your specific needs, whether they involve wrinkle reduction or body sculpting.
One surgical option to consider that can have a major impact on your overall body image and sense of self is breast reduction surgery. We'd like to take a few moments to go over the basics of surgery and focus on the recovery period and what that is like for patients.
About Breast Reduction Surgery
Breast reduction surgery is performed when a woman has breasts that are too large for her frame and result in poor body contour and/or back and shoulder pain. The surgery will involve the removal of excess skin, fat, and glandular tissue in order to reduce the size of the breasts themselves.
What to Expect Immediately After Surgery
Grogginess, nausea, and fatigue are both common issues for patients after surgery simply given the nature of the procedure and the effects of general anesthetic. Patients will likely be wearing surgical gauze or a compression garment in order to ensure the best possible results. This should be worn as directed by the surgeon. It's important that patients return home and rest after their surgery.
What to Expect In the Days After Surgery
Soreness, discomfort, swelling, and bruising are all common after one undergoes breast reduction surgery. Pain and tenderness of the breasts will often persist for first few days, diminishing by the end of the first week. Pain medication will be prescribed to address these issues.
Patients will be asked to take at least one week off of work and refrain from any strenuous physical activity until advised otherwise. A friend or stylist will need to wash the patient's hair since it can be difficult to raise the arms above a certain point. It's important for patients to refrain from the use of tobacco products or alcohol in this early part of healing to ensure the best possible results.
What to Expect in the Weeks After Surgery
Patients will visit the practice for a followup within the first week after surgery in order to monitor healing progress. Drainage tubes will be removed by the end of the first week or so depending on the rate of drainage that patients monitor.
In the weeks after the breast reduction surgery, patients will notice reduced pain and swelling, and they will slowly be able to return to more and more of their normal physical activities. Raising the arms will likely remain difficult, which is why having a friend or loved one to assist with certain activities can be helpful. All patients should be back at work by the end of two weeks so long as their job duties do not involve heavy lifting.
Things to Keep In Mind As You Continue to Heal
In the weeks and months ahead, breast reduction patients will notice improved sensation and appearance of their breasts, with reduced redness, bruising, and swelling. Patients will continue to wear their surgical bra for several weeks after surgery to ensure the best possible results, with followup visits occurring less frequently than before. With time and good healing, surgical scarring from the procedure will fade.
Learn More About Breast Enhancement Surgery Options
If you would like to learn more about breast reduction surgery and your many other options out there for advanced aesthetic enhancement and rejuvenation, be sure to contact our plastic surgery centers in Pittsburgh, Chadds Ford, Beverly Hills, and Sao Paulo. During your visit, we will cover all of the risks and benefits of treatment in full detail so that you can make smart, well-informed decisions about your needs.
"

I honestly never thought of myself as a serious candidate for elective surgery ... but I'm already feeling and looking so much better.*

" Jill's Story