The Pros and Cons of Getting Small Breast Implants
By Dennis Hurwitz on June 20, 2014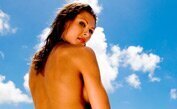 Breast augmentation surgery is one of the most well-known and most popular surgeries in the world. It allows women who have issues with the size and shape of their breasts to achieve a more ideal breast size and much better breast contour overall. A plastic surgeon will carefully tailor your breast augmentation surgery to meet your needs, helping you look your very best.
When it comes to customizing breast augmentation surgery to the patient, the size of the breast implants is an important consideration. Our team would like to consider the nature of small breast implants and the various advantages and disadvantages associated with them.
Size Matters, But Not Necessarily How You Think
As noted above, implant size is a major concern with breast augmentation surgery. Many patients seem to think that bigger breast implants are better, but that is not always the case. In fact, getting small breast implants may be more ideal for a patient for a variety of reasons. Even just a small boost in cup size can make a major difference, which is why multiple options are always on the table when it comes to breast enlargement surgery.
The Pros of Getting Small Breast Implants
There are many advantages to getting relatively small breast implants placed for breast augmentation surgery.
Results that are subtler and more natural - When patients get small breast implants placed, the overall results of surgery tend to look more natural while still yielding excellent and even dramatic results.
Reduced risk of complications - When large breast implants are placed, there tends to be increased risk of bottoming out, breadloafing, and other aesthetic flaws that will require corrective/secondary surgery. These issues tend to be less likely with smaller breast implants.
Shorter recovery time after surgery - While recovery times do vary from patient to patient, a number of patients who receive comparatively smaller breast implants report better comfort, less severe side effects, and a shorter recovery period.
The Cons of Getting Small Breast Implants
The primary drawback of getting small breast implants is that the results may not be as dramatic as the patient wanted. In fact, some patients may regret the slightly larger size of their breasts and wish that they had selected larger breast implants instead. This is why it's so important to consider all of your options during the consultation process.
Other Matters to Consider with Regard to Breast Implants
Breast implant size is just one factor that can affect the outcome of surgery. Breast implant profile (i.e., the outward projection of the breast implants) is also important to keep in mind, as well as the shape of the breast implants and its placement relative to the mammary gland and the pectoral muscle. By looking over all of these options carefully, we will be able to perform the ideal surgery for you and your needs.
Learn More About Breast Augmentation and Enhancement
If you are interested in undergoing breast augmentation surgery and what options would be right for you and your needs, we encourage you to schedule a consultation at The Pittsburgh Center for Plastic Surgery. Contact our cosmetic surgery centers in Pittsburgh, Chadds Ford, Beverly Hills, and Sau Paulo today to speak with a skilled plastic surgeon about how your aesthetic goals can best be addressed.