The Extended Tummy Tuck Procedure
By Dennis Hurwitz on November 07, 2013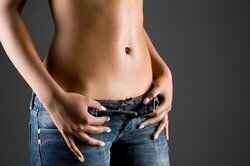 Loose folds of fat and skin can be frustrating, especially for patients who are determined to achieve their desired proportions. The abdomen is one particular area that seems to retain layers of unwanted tissue. Patients looking for a body contouring procedure to trim the abdominal area may benefit from a tummy tuck at our Pittsburgh practice, but the traditional technique may not be sufficient for everyone. If you need to additionally reshape the area around your waist and flanks, an extended tummy tuck may be the right treatment for you.
A Full vs. Extended Tummy Tuck
Each type of tummy tuck, or abdominoplasty, procedure depends on the amount of fat and skin to be removed. The traditional technique, called a full tummy tuck, is reserved for a moderate amount of tissue around or below the stomach, but does not extend to the waistline. An incision is thus made from hip to hip, from which the abdomen can be contoured and reshaped.
An extended tummy tuck requires a longer lateral incision that reaches around the hips, allowing the doctor access to the waistline and flanks. Patients can expect more dramatic results from this technique, significantly improving the body's midsection and overall curvature.
An Extended Tummy Tuck Procedure
An extended tummy tuck may take anywhere from two to six hours to complete, but patients are also sometimes advised to stay overnight for their initial recovery. Before the procedure, you will be given anesthesia - usually a general anesthetic - by your plastic surgeon to limit discomfort during surgery. Treatment will then commence as follows: 
An incision will be made around each hip and along the lower stomach. A smaller incision will also be made around the navel.
The skin will be pulled down taut, while excess skin and tissue are trimmed away from the abdomen and around the waist.
The underlying muscles will be repositioned and tightened for a flatter, smoother appearance. Some patients also opt to have liposuction performed at this point for the additional removal of fat. 
The remaining skin will be stitched into place, and the navel will be repositioned to complement the stomach's new shape.
Most patients are able to return home within a day after their surgery. With proper rest and recovery, you can expect to resume work or school within a week, assuming no physically demanding tasks are required. 
Candidates for an Extended Tummy Tuck
A tummy tuck is usually recommended for patients who have not achieved their desired results through diet and exercise. Those who want to shed excess, loose skin from a relatively large area around their stomach may be good candidates for an extended procedure. Candidacy should also include:
Excess skin around your midsection: Good candidates for an extended abdominoplasty not only have unwanted folds of skin at their stomach, but also at their sides (i.e., "love handles") and hips.   
Good overall health: Your ability to recover from surgery with minimal risk of complications is dependent upon your health. Diseases that compromise your immune system, such as heart disease, liver disease, or uncontrolled diabetes, may impact your recovery. Speak with your doctor about any relevant illnesses or risk factors before undergoing treatment.
Steady weight: Once you complete a tummy tuck, it's up to you to maintain your new body. Significant weight gain or even weight loss can negatively affect your contours.
No pregnancy plans: Pregnancy can drastically alter your body, most notably in the areas affected by an extended tummy tuck. Patients who become pregnant after having tummy tuck surgery are very likely to lose the results of their treatment.
Learn More about Extended Tummy Tuck Surgery
Let us help you determine which body contouring procedure is most appropriate for you. Our numerous treatments can be tailored to a variety of patients' needs, and we are confident that you will benefit from Dr. Hurwitz's cosmetic experience and expertise. Contact us today for a consultation.
"

I honestly never thought of myself as a serious candidate for elective surgery ... but I'm already feeling and looking so much better.*

" Jill's Story