The Endoscopic Brow Lift Technique
By Dennis Hurwitz on December 06, 2013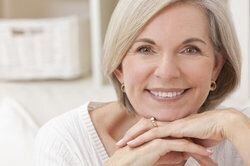 At our Pittsburgh center for plastic surgery, we encounter many patients who are looking to reduce facial signs of aging. If the majority of a patient's desired changes are in the upper portion of the face, a brow lift can provide numerous enhancements from one simple procedure.
An endoscopic brow lift is one treatment in particular that is both effective and minimally invasive. Here's what you should know about this facial plastic surgery technique and how it can rejuvenate your appearance. 
What Does a Brow Lift Do?
A brow lift, also called a forehead lift, is a way of tightening the skin from above one's eyes to the top of the forehead. As people age, this skin tends to loosen, sag, and lose its elasticity. This can result in someone looking persistently tired, angry, or worn. By raising the skin of the forehead upward, a brow lift can restore a more youthful and energized appearance.
Common problems solved by a brow lift include:
Frown lines
Lowered eyebrows
Upper eyelid drooping (called hooding)
Wrinkles along the forehead or eyebrows
If you are experiencing any of the above problems and believe cosmetic surgery may help, consult Dr. Hurwitz to see if a brow lift may be right for you. For patients also looking to improve problems in the mid- to lower-portion of the face, brow lift surgery may be combined with treatments such as eyelid surgery or a facelift.  
Benefits of the Endoscopic Technique
In a traditional brow lift procedure, an incision is made along the hairline, extending from ear to ear. As a result, the scar is more noticeable, as are side effects during recovery. In an endoscopic procedure, a few small incisions are made above the hairline, resulting in multiple benefits:
Concealed scars: Rather than one long scar, the surgery leaves much smaller ones that are naturally concealed by one's hair.
Quicker recovery: Because the procedure is less invasive, incisions take a shorter time to heal.
Fewer side effects: Swelling, bruising, and light bleeding are common side effects of brow lift surgery. While recovering from an endoscopic lift, such side effects and discomfort are minimized.
Subtle Results: For patients showing early to moderate signs of aging, an endoscopic brow lift can improve one's natural appearance without obvious indications of surgery.
The Endoscopic Brow Lift Procedure
If you are deemed a good candidate for surgery, the procedure will begin with either a general anesthetic or a combination of local anesthesia and sedation. Tiny incisions will then be made above the hairline, usually near the top of one's head and further down each side, toward the ear. With the aid of a small camera called an endoscope, the doctor can reposition muscles, remove fat, and trim excess skin. The remaining skin will then be tightened and the incisions sutured up.
Although the forehead is the primarily area treated, its effects on the rest of your face are stunning. Eyebrows and upper eyelids can be simultaneously raised, producing a smoother look from your eyes up. 
Learn More about Brow Lift Surgery
If you feel healthy and vivacious, why not reflect that in your appearance? A brow lift or similar facial surgery can help combat the undesired effects of age, while boosting your confidence on a daily basis. To see if you are a candidate for a brow lift or alternative procedure, contact our office and set up an initial consultation with Dr. Hurwitz.