Skin Tightening Surgery after Weight Loss
By Dennis Hurwitz on January 06, 2014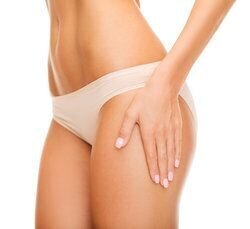 People who have lost a significant amount of weight may be frustrated that the number on the scale does not translate to the image in the mirror as sagging, excess skin distorts their reflection.  
But sagging skin need not last a lifetime; a skilled plastic surgeon can tailor an assortment of skin tightening techniques to individual needs and reveal the slimmer silhouette hidden below.
Dr. Dennis Hurwitz is considered an expert in body contouring. He has offices in Beverly Hills; Sao Paulo, Brazil; and Pittsburgh that offer skin tightening treatments as well as a range of body contouring and plastic surgery services. He attracts clients from across the United States as well as the world.
Skin tightening techniques vary depending on the location of the excess skin and the amount of weight lost. In addition to weight-loss surgery, excess skin can occur after pregnancy or dedicated diet and exercise. To address the varied problem areas, cosmetic surgery techniques can be combined and interchanged to address individual contouring needs.
Body Lifts
In general, a body lift combines multiple contouring techniques, grouping them into the same surgery where possible. By working on related areas at the same time, a surgeon achieves a more harmonious result than if the work is done piecemeal.
Traditional Lower Body Lift - Provides contouring to the tummy, thighs, buttocks, and back. This procedure involves creating a belt-like incision around the body above the buttocks and outer thighs. An additional incision separating the thighs may also be made. Underlying tissue will be reshaped, excess skin removed, and pockets of fat may be liposuctioned. This is followed by a tummy tuck to tighten stomach muscles and remove excess abdominal skin.  
Upper Body Lift- Targets mainly the breasts, chest, and middle back. The surgery can eliminate rolls of fat from the back and narrow the waist. Extra skin under the breasts or on the lower rib cage can be removed and the area tightened.
Total Body Lift - A total body lift includes both upper and lower body lifts. Depending on the extent of work, the treatments may be performed in one session or in a series to manage the risks involved in performing multiple treatments at the same time.
Body lifts are ideal for patients looking for skin tightening in multiple areas. However, the procedures can also be performed as individual treatments, which allow a skilled plastic surgeon to design a regimen tailored to problem areas. Individual contouring treatments include tummy tucks, breast lifts or reduction, butt lifts, thigh lifts, and liposuction.
In addition, targeted contouring treatments can address areas not treated in a body lift, such as arm lifts and face lifts.  
Learn More
Skin tightening treatments allow people to shed their old image, improving both their contour and their confidence. Though the spectrum of techniques appears overwhelming, once your needs have been assessed, the selection process becomes easier.  
A consultation provides the best opportunity to discuss which techniques are best suited to you. Dr. Hurwitz is considered an expert in body contouring and has regularly appeared on television programs, including Discovery Health, ABC Prime Time, The View, and the Today Show on NBC.  To learn more about skin tightening, please call our offices.