Skin Dimpling after Liposuction Surgery
By Dennis Hurwitz on April 24, 2014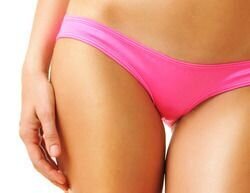 Seeing as it's the most popular plastic surgery procedure in the world, it's safe to assume that liposuction can have very rewarding results. When performed under the skilled hands of an experienced surgeon, liposuction is also a safe procedure with minimized risks. Still, no surgery is guaranteed to be risk-free or without side effects. Even after a patient has recovered from treatment, there is a chance for complications to arise.
Because liposuction requires skin to heal over a newly contoured area, there is always a chance for skin irregularities, such as skin dimpling, to arise. By and large, such irregularities pose no threat to one's health, and yet their aesthetic drawbacks can impact a patient's satisfaction. If you plan on undergoing liposuction in the near future, understand the risk of dimpling and how it may be avoided, as provided by Pittsburgh plastic surgeon Dennis Hurwitz.   
What Is Skin Dimpling?
Just as its name implies, this condition presents as an uneven or "dimpled" texture of the skin. Although it may appear as if something is wrong, dimpling is simply the underlying layer of subcutaneous tissue influencing the outer layer of skin. Outside of its cosmetic effects, it poses no medical risk.
Typically, skin appears smooth due to the even layering of fat, muscles, and connective tissues beneath it. When tissues close to the surface become uneven, however, the skin's texture may reflect that. This is the same reason behind cellulite and its effect on the skin's appearance.
Liposuction and Skin Dimpling
Although the purpose of liposuction is to create smooth, natural looking contours, the results can sometimes change during or after recovery. Most of the time, tissues in the area of liposuction heal in place, retaining their uniformity. Occasionally, though, fatty tissue may clump together as it heals, producing the dimpled texture. In other cases, dimpling may be the result of the skin itself or due to external factors that occur after recovery.
Causes of Skin Dimpling
The most common causes for skin dimpling are as follows:
Surgical inexperience: If a surgeon has little experience with liposuction, he or she will be more likely to create uneven contours. Thankfully, Dr. Hurwitz comes with a wealth of experience, having helped thousands of patients over his 30+ years as a surgeon.
Rushed or too much fat removal: If liposuction is performed too quickly, not enough care will be taken to create a smooth area under the skin. Likewise, larger surgical areas are simply more difficult to contour naturally and reliably.
Change in weight: Patients who gain or lose a significant amount of weight after surgery risk losing the effectiveness of their results. With liposuction, an additional risk of dimpling is posed, as the skin stretches or contracts over the changed size of an area.
Loose skin and cellulite: Some patients are simply more prone to dimpling due to their body types. If cellulite is already present in a patient, he or she will be more likely to see dimpling after surgery. Loose or inelastic skin is another risk factor for dimpling, since it is less likely to properly conform over the underlying tissue.  
As evidenced above, the most effective way to prevent dimpling is to choose a skilled plastic surgeon who understands how to produce the best results with the fewest risks. With a knowledgeable surgeon and positive health habits after surgery, even minor complications can be avoided altogether.
Treating Skin Dimpling
If you find yourself developing skin dimpling after liposuction surgery, there are multiple ways you can attempt to reduce it. Sometimes, gently massaging the area periodically is enough to keep dimpling from progressing, even if performed on your own. In other cases, doctors have found the use of ultrasonic or radiofrequency energy useful in promoting smoother skin. Failing that, skin can be tightened through a follow-up procedure, wherein it is temporarily lifted from tissue, pulled more tightly over it, and sutured in place.
Preserve Your Liposuction Results
We want the results of your liposuction to remain beautiful and problem-free for as long as possible. Before coming in for surgery, speak with Dr. Hurwitz about how you can minimize your chances of skin dimpling and other post-surgical complications. Schedule your consultation with us today.