Rejuvenate Your Post-Baby Body with a Mommy Makeover
By Dennis Hurwitz on March 14, 2014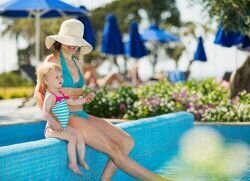 After you give birth, and if you choose to breast feed, your body goes through a wide variety of changes. You may find that once you have lost the baby weight and finished breastfeeding, your body is not quite what it was before you had your child. In many cases, even with diligent exercise and a healthy diet, you will not be able to address and change the physical transformations that have taken place. Whether you experience stubborn fat deposits that will not go away, sagging breasts, or abs that will not flatten to their pre-pregnancy state, visit us at the Pittsburgh-based Pittsburgh Center for Plastic Surgery, so we can begin guiding you toward your personalized mommy makeover, and the body you desire.
What Is a Mommy Makeover?
Rather than choosing one procedure at a time, a mommy makeover is a combination plastic surgery plan that targets a variety of concerns all at once. We know visiting us for several procedures is difficult with your busy life. With a mommy makeover, you can achieve the changes you desire, experience one recovery period, and return to your life with the body that makes you feel proud.
What Are Some Popular Mommy Makeover Procedures?
Because the physical and hormonal changes that take place during and after pregnancy are common to most women, certain surgical procedures are extremely popular among women seeking plastic surgery to improve their post-baby bodies. Look over the following common procedures for a more thorough idea of what you can expect with a mommy makeover:
Breast Augmentation: A breast augmentation allows you to achieve the appearance of more youthful breasts. By carefully selecting breast implants that accomplish the desired results, you can combat sagging that often occurs after pregnancy.   
Breast Lift: Dr. Hurwitz may suggest a breast lift as part of your mommy makeover procedure. This will create a more beautiful bust line by removing excess skin and creating a firmer contour.
Tummy Tuck: Also referred to as abdominoplasty, this plastic surgery procedure includes the removal of excess skin and fat around your midsection, as well as a tightening of the muscular wall, for a flatter, tauter abdominal area.
Liposuction: Liposuction includes the removal of fat deposits from a wide array of body regions, such as the abdomen, waist, upper arms, and thighs, so you can achieve the toned, firm appearance and feel you desire.
Thighplasty: A thighplasty focuses on improving the contour and firmness of your thighs, which is often an incredibly difficult area to address through your own efforts.
Do I Make a Good Candidate for a Mommy Makeover?
Determining your candidacy for a mommy makeover hinges on more than one factor. You will need to schedule a consultation to speak with Dr. Hurwitz. He will first discuss your personal goals for your body to ensure you have realistic expectations, and that a mommy makeover is the best solution for your needs. In addition, he will ask you about your past and current health status, as well as any medications you currently take, to establish whether you are fit for surgery.  
Schedule a Mommy Makeover Consultation
If you would like to learn more about a mommy makeover, please contact us today to schedule a consultation. We look forward to meeting you and joining you on your journey back toward the body that makes you feel incredible about yourself.
"

I honestly never thought of myself as a serious candidate for elective surgery ... but I'm already feeling and looking so much better.*

" Jill's Story