New Book Details Surgeon's Journey to Successful Body-contouring Approach
By Dennis Hurwitz on October 15, 2015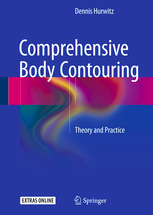 This month, Springer.com publishes Comprehensive Body Contouring: Theory and Practice. The 230-page, 190-image compendium highlights the 16-year clinical experience of an innovative University of Pittsburgh plastic surgeon in treating dysmorphia after massive weight loss, pregnancy, and aging. The manuscript - the cover of which is Impressionistic yellow and red on solid blue - recounts a personal odyssey of improving numerous patients' esteem by converting loose skin and sagging surface body parts to a normal and even super-attractive appearance. The companion electronic version with 10 procedural videos allows readers to enlarge images and hypertext.
Comprehensive Body Contouringis both an instructional manual and surgical atlas. By its very nature, body-contouring surgery is comprehensive. This new subspecialty of plastic surgery is characterized by extensive operations of contiguous regions. Traditional teaching in aesthetic plastic surgery is by location, such as breast, abdomen, arms or thighs. Until recently, little to no attention was placed on neighboring anatomy and the impact of contiguous procedures. In the past and, for some plastic surgeons, still today, aesthetic operations are planned and executed individually. This text focuses on the design, integration and execution of individual operations for optimal gender-specific appearance. All physicians treating patients with sagging skin will learn what is possible and how to achieve it. Plastic surgeons will benefit from the details of this instructional guide to surgery on patients seeking body-contouring surgery. General surgeons, especially specialists in bariatric surgery, will be able to better understand the state-of-the-art treatments available to their patients. Some of these surgeons will be empowered to expand their body-contouring repertoire.
Total Body Lift (TBL) surgery was conceived as the coordinated artistic surgical effort to correct complex weight-loss deformity in as few stages as safely possible. The majority of TBL transformations are now mostly performed in two to three integrated stages. Abdominoplasty is the keystone procedure, and typically the lower body, buttocks, and thighs are corrected first. During a second stage, the upper body, breasts, and arms are addressed.
Some of the points that are covered in the book include: 
Body-contouring surgery in the male, especially in the chest and waist, has unique musculoskeletal challenges.

The occasional facial rejuvenation requires fat augmentation, considerable skin excision, and a reproducibly secure barbed suture fascial and Platysma imbrication.

The severity of deformity after massive weight loss leads to acceptance of extensive scars for pleasing contours. Nevertheless, techniques for minimizing scars are introduced.

A coordinated, well-planned, bold approach best preserves adequate excess tissue for recycling.

Recontouring is becoming more sophisticated through new patterns of excision, concomitant liposuction, lipoaugmentation, selective retention of tissues, and shaping with neighboring flaps.
Chapter-by-Chapter Guide
After introductory Chapter 1, Chapter 2 presents relevant gender-specific aesthetics and perioperative care. Chapter 3 explains surgical principles and general technique. Interrelated operations demand complex aesthetic analysis, fine technical skills, organized and efficient teamwork, and attentive perioperative care. Chapter 4 addresses the shaping of females. After a detailed presentation of the lower-body lift, the two major variations of the upper-body lift are presented. There is also information on Mommy Makeovers. Chapter 5 addresses surgery on males. First there are cases involving gynecomastia and then skin tightening for the entire torso. Chapter 6 details efficient and effective facelift surgery for both full and deflated faces.
The advantage of this single-author book is efficiency and consistency. Representative cases are fully presented. There is a consistent pattern of photography presentation. Cases that demonstrate technique start with a series of photos without surgical markings for the reader surgeon to examine the deformity and consider treatment options. The next set of photos shows preoperative markings. Intraoperative photos and drawings may follow. The results photographs are taken months to years later. Brief case presentations make salient points. Relevant criticism and contrary views are presented. 
A recognized innovator, Dr. Hurwitz is frequently asked to lecture to plastic surgeons. Recently, he has been an invited speaker and instructor during the annual meetings of the Northeastern Society of Plastic Surgeons, the American College of Surgeons, the American Society of Plastic Surgeons, and the Aston-Baker Cutting Edge Aesthetic Surgery Symposium.