Male Plastic Surgery: Cosmetic Procedures with Men in Mind
By Dennis Hurwitz on September 10, 2014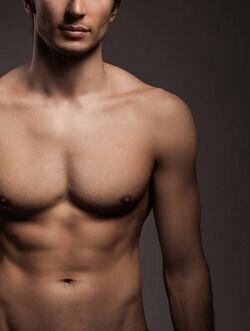 The Pittsburgh Center for Plastic Surgery has served countless patients throughout the greater Pittsburgh area and elsewhere. Over the years, we've noticed more and more men coming in to undergo treatment. This includes body sculpting and contouring to achieve a trimmer and slimmer frame as well as facial cosmetic surgery to reduce wrinkles and achieve excellent anti-aging results. It's a sign that aesthetic enhancement is no longer something that's automatically gender-based and that men are becoming more attuned to their own appearance and what they can do to look their best.
How common is male plastic surgery?
Plastic surgery for men is becoming more and more common. According to statistics from the American Society of Plastic Surgeons, more than 1.2 million cosmetic procedures were performed on men in 2013, which is roughly 9% of all cosmetic procedures in 2013. Here's a more detailed breakdown of that figure.
More than 204,000 cosmetic surgery procedures were performed on men in 2013, which made up approximately 13% of all cosmetic surgeries performed that year
Men underwent more than 1.04 million minimally invasive or non-invasive cosmetic procedures in 2013, roughly 8% of all minimally invasive procedures that year
Male Facelifts and Brow Lifts
One of the most common kinds of surgeries performed on men are facial lift surgeries. This include the traditional facelift, which targets the middle portion of the face, and the brow lift, which helps reduce the appearance of lines and wrinkles on the forehead.
Male Upper and Lower Eyelid Surgery
Surgery to address issues with the eyelids are also common. Both upper eyelid surgery and lower eyelid surgery can improve a man's appearance and make him look much younger and refreshed in the process.
Male Rhinoplasty (Nose Job)
Adjusting the contour and appearance of the nose is a common male plastic surgery. Sometimes the surgery is also performed for medically necessary reasons rather than just cosmetic ones, such as revising the nasal passages to treat a deviated septum or to treat other kinds of respiratory issues.
Male Breast Reduction
Sometimes men suffer from having a chest that looks more effeminate rather than masculine, a condition known as gynecomastia. Male breast reduction will remove excess fat, skin, and glandular tissue from the chest area to improve the overall appearance of a man's upper torso.
Male Liposuction
A little bit of problematic body fat is common in people of all ages. When men are unable to lose these fat deposits through diet and exercise, they can undergo liposuction, which targets these difficult-to-lose bits of fat in different parts of the body.
Male Body Lift and Contouring Procedures
In addition to liposuction, many men who have lost a considerable amount of weight have undergone body lift and body contouring surgeries to improve overall body contour and shape. This includes procedures such as:
Tummy tuck (abdominoplasty)
Arm lift
Neck lift
Full body lift
Males and Cosmetic Injectables
While great results are possible with traditional plastic surgery, many men are turning to cosmetic injections such as BOTOX® Cosmetic or dermal fillers. Different kinds of cosmetic injections are able to reduce wrinkles and achieve excellent anti-aging results in the process without any of the downtime or scarring of a traditional surgery.
Hair Loss Treatment
Dr. Hurwitz also offers NeoGraft treatment, a surgical hair restoration solution that can restore a youthful mane.
Learn More About Cosmetic Plastic Surgery
For more information about your options for advanced aesthetic enhancement, be sure to contact our cosmetic plastic surgery center today. Our entire team at The Pittsburgh Center for Plastic Surgery looks forward to meeting you in person and helping you achieve all of your aesthetic goals.