Large Breast Implants: Pros and Cons
By Dennis Hurwitz on June 10, 2014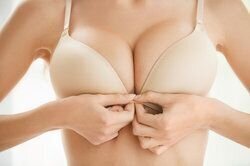 If you have recently decided to undergo breast augmentation, you are probably facing another major decision: what size implants should you select? At our Pittsburgh plastic surgery practice, we offer both small and large breast implants.We recognize that there is no right or wrong decision when it comes to the size of your implants. Many women feel more comfortable with smaller implants, while others experience an immense boost of self-confidence when they receive large implants. Dr. Dennis Hurwitz will carefully explain your breast augmentation options and help you select the right implants for your cosmetic goals.
The Benefits of Large Implants
There are a number of reasons that large implants may be the right choice for you. Their advantages include:
Dramatic results: Like many women, you may want distinctive results following your breast augmentation procedure.Large implants will be more noticeable.
Increased self-confidence: Many women feel sexier and more self-assured with significantly larger breasts.
Post-surgical satisfaction:  A common complaint among many women is that they did not "go larger" during their breast augmentation surgery. By choosing larger implants up front, you will be less likely to desire surgical revisions.
A proportionate figure: If you have a voluptuous bottom, larger implants can give your body more balance.
The Drawbacks of Large Implants
While large implants can be very beneficial to a number of women, they have disadvantages as well. The drawbacks include:
Less natural appearance: Larger implants are more likely to look as though you have "had work done." While this can be appealing for some women, you may be seeking more subtle results.
Physical difficulties: Very large implants can make it uncomfortable to participate in certain sports and activities. If you choose overly large implants, you may also experience back pain. Dr. Hurwitz will carefully examine your body type to help you choose implants that will be comfortable and will allow you to participate in a wide range of activities.
Sagging: Larger implants are more likely to make your breasts sag over time. While this can be corrected with a breast lift, with smaller implants, you will be less likely to need revisional surgery.
Increased risk of surgical complications: Although breast augmentation is a very safe procedure, larger implants do slightly increase your risks. With large implants, you are more likely to experience capsular contracture (the body's rejection of the implants), nerve damage, implant rupture, and implant movement.
Embarrassment: Although it does not happen often, some women are embarrassed by the size of their breasts and wish they had chosen smaller implants. For this reason, it is important to be extremely cautious when choosing your implant size. Do plenty of research, ask friends for advice, and consult your plastic surgeon before making your final decision.
Find the Right Implants for You
Dr. Hurwitz is dedicated to providing outstanding cosmetic results for all his patients, and he wants to make sure you feel confident about your breast implant decision. To learn more about breast implants and to begin determining the right size for you, contact our office to schedule a consultation today.
"

I honestly never thought of myself as a serious candidate for elective surgery ... but I'm already feeling and looking so much better.*

" Jill's Story