Is a Mini Tummy Tuck Right for Me?
By Dennis Hurwitz on October 25, 2013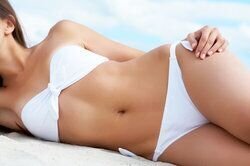 Many men and women are frustrated and embarrassed by saggy skin and lower belly fat that doesn't go away no matter what exercises or diet they try. Although proper diet and exercise are great for achieving and maintaining an ideal weight, those approaches don't always help specific problems, like excess skin.
The tummy tuck is a popular procedure that can produce dramatic results. If you have been considering a tummy tuck, but really only need to address the area below your belly button, you may want to consider a less-invasive option - the mini tummy tuck. Let's look at the benefits of mini tummy tuck surgery and what ideal candidates can expect at our Pittsburgh plastic surgery practice.
What Are the Benefits of a Mini Tummy Tuck?
The purpose of a mini tummy tuck is to remove loose, sagging skin in the lower abdominal area. Benefits include:
Toned lower abdominal area and slimmer waistline
Quicker, less invasive surgery with faster recovery than full tummy tuck
Shorter, less noticeable incision and scarring
Improved self-image and increased self-confidence
Many of our patients are thrilled with the results of this procedure, feeling more comfortable in their clothing and more confident in general.
Am I a Good Candidate for a Mini Tummy Tuck?
Ideal candidates for the mini tummy surgery are men and women in good health and near their ideal weight who want to tighten their lower abdominal skin and remove a small amount of fat. Most people who seek this treatment have lost a significant amount of weight, either naturally or through bariatric surgery, or have had several children. Other reasons include aging and genetics. Tummy tucks are not a substitute for weight loss, and you should be committed to maintaining the results with appropriate diet and exercise.
Those with extra skin and fat in the upper abdominal area would get better results from a traditional tummy tuck. Also, a tummy tuck is not appropriate for people who plan to get pregnant or lose weight in the future.
What Is Involved in the Procedure?
A mini tummy tuck, also known as mini or partial abdominoplasty, is typically performed under general anesthesia and can take up to two hours. An incision will be made across your lower abdomen, excess skin and fat will be removed, and the skin will be pulled taut. With expertise in body contouring, including special techniques learned during speaking engagements in Brazil, we can successfully give you a smoother, flatter lower abdomen.
You will need someone to drive you home after the mini tummy tuck and stay with you the first night. You will have sutures (stitches) and be fitted with a compression bandage to aid in healing. Most patients experience pain, swelling, numbness, bruising, and fatigue. We will prescribe medication to help with the pain and ease your recovery.
Learn More about the Mini Tummy Surgery
If you would like to get rid of drooping skin and lower belly fat that makes you self-conscious, a mini tummy tuck might be a good treatment for you. We encourage you to schedule an appointment with Dr. Hurwitz to learn more about this life-changing procedure. We can help determine your goals and decide on the most effective approach for your specific concerns.