Facelift Side Effects
By Dennis Hurwitz on March 05, 2014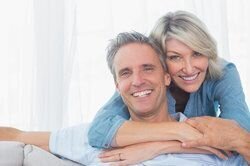 As you start to experience visible signs of aging, you may consider facial plastic surgery to reverse the process. A facelift can take years off your appearance, eliminating the wrinkles and sagging skin that appear with age. At the Pittsburgh Center for Plastic Surgery, Dr. Dennis Hurwitz and his team of plastic surgeons have turned back the clock for hundreds of Pittsburgh patients. But side effects are a reality after facelifts, as with any plastic surgery procedure. Understanding and managing these side effects can help you achieve the best results.
What Are the Most Common Facelift Side Effects?
All surgery comes with some side effects. With that said, most of these side effects are only temporary and will fade over a period of days or weeks as you heal. By understanding what these side effects are, you can be better prepared to manage your healing process. Some of the most common side effects following a facelift include:
Soreness and Swelling: You will most likely experience tenderness at the incision site of your facelift. This is normal and will subside as you heal. Contact your plastic surgeon if you experience excessive redness, pain, or a sensation of heat around the incision, as this could be an indication of an infection.
Scarring: A certain amount of scarring is very likely any time an incision is made during surgery. In the case of a facelift, most scarring is easily covered as incisions are commonly made above the hairline. A skilled plastic surgeon can also minimize any scarring, making only as large of an incision as is absolutely necessary.
Numbness: Some patients experience a sensation of numbness around the site of surgery or around the face. This is generally temporary and will fade quickly after your procedure.
Are There More Serious Risks for Facelift Surgery?
Most facelift side effects are temporary, but there is always a small risk of more serious complications. These risks can include:
Prolonged or permanent numbness
Facial nerve damage
Hair loss at the incision site
How Can I Reduce My Facelift Side Effects?
Follow Your Plastic Surgeon's Instructions: One of the most important things you can do during the healing period after plastic surgery is to carefully follow all of your plastic surgeon's instructions. These instructions are given for a reason, and neglecting to follow up your surgery with your prescribed aftercare can hinder your body's ability to heal quickly and correctly.
Contact Your Plastic Surgeon Immediately with Any Concerns: Trust your instincts during the healing process. Contact your plastic surgeon immediately if you contract a fever, experience pain beyond what is normal, or believe that any other complications may be arising. It may turn out to be nothing, but it is always better to be sure than to risk letting a small complication get out of control.
Choose a Knowledgeable Plastic Surgeon: By choosing a plastic surgeon with years of training and hands-on experience, you can greatly reduce the potential for more serious risks and complications during and following your facelift procedure.
Learn More about Facial Plastic Surgery Today
Like all plastic surgery procedures, facelifts carry the potential for side effects and risks - but these risks can be dramatically reduced with the right plastic surgeon. To learn more about the process of facial plastic surgery, contact the Pittsburgh Center for Plastic Surgery and schedule a consultation with one of our skilled plastic surgeons today.
"

I honestly never thought of myself as a serious candidate for elective surgery ... but I'm already feeling and looking so much better.*

" Jill's Story