Dr. Hurwitz Will Appear on The Doctors on March 14th
By Dennis Hurwitz on March 08, 2017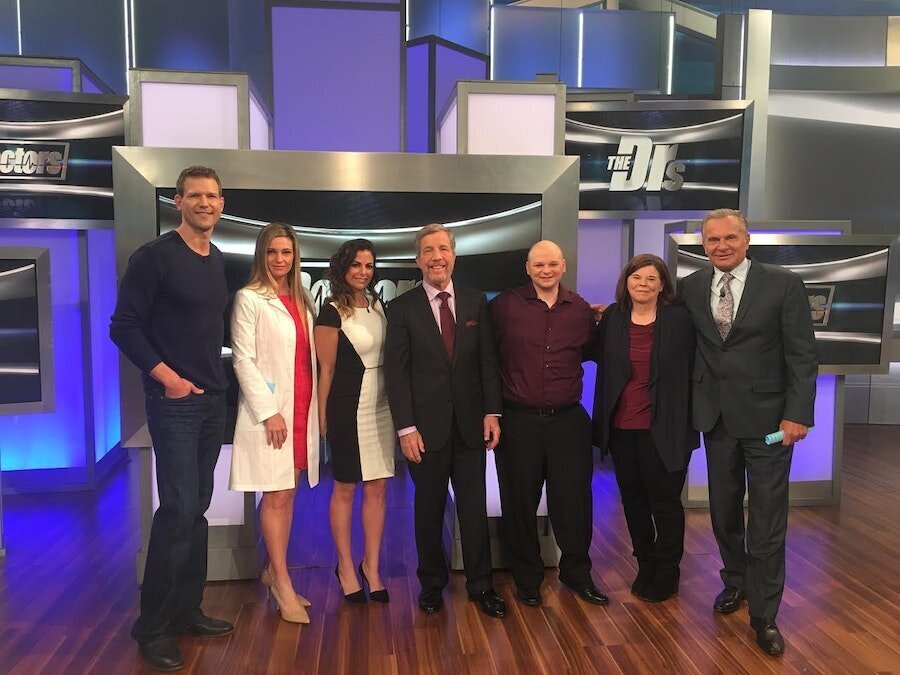 Pittsburgh, PA - Dr. Dennis Hurwitz will appear on the March 14th episode of The Doctors to discuss gynecomastia and the state-of-the-art techniques he employs to address the condition. The episode features the work Dr. Hurwitz performed on one of his actual patients, Michael Malone. The results of Mr. Malone's treatment demonstrates the positive impact the procedure can have on people's lives.
Dr. Hurwitz is nationally renowned for his work in body contouring and sculpting, particularly when it comes to addressing gynecomastia. He is often asked to lecture and publish articles on the subject, which is why the team at The Doctors came to him to share his insight and expertise.
Overview: What Is Gynecomastia?
Gynecomastia refers to an excess of breast tissue in males. This condition can affect children, teenagers, and adults, causing them to have enlarged breasts. The most common causes of gynecomastia include hormonal changes, hyperthyroidism, kidney failure, liver failure, malnutrition, and the use of certain medications.
Gynecomastia often resolves on its own with age or as hormones level out. Other times, surgical treatment is required to reduce the prominence of the chest.
Advanced Technology for Gynecomastia Correction
To address gynecomastia, Dr. Hurwitz uses some of the most advanced technology available to cosmetic surgeons today. This includes VASERlipo® technology and BodyTite by InMode, both of which are minimally invasive alternatives to traditional liposuction.
VASERlipo® relies on ultrasound technology, allowing plastic surgeons to target and eliminate unwanted pockets of fat in various parts of the body. BodyTite by InMode removes body fat as it tones and tightens the skin thanks to radio-frequency assisted liposuction (RFAL™) technology.
These two approaches to body contouring help minimize damage to tissues while improving the overall tone and contour of the chest and torso. With the use of these technologies, Dr. Hurwitz was able to treat Mr. Malone's gynecomastia without visible scarring.
Committed to Patients and Excellent Results
Though financially disadvantaged, Mr. Malone came to Dr. Hurwitz because of his expertise in body contouring. In addition, Dr. Hurwitz's plastic surgery center in Pittsburgh was conveniently located near Mr. Malone's home in Youngstown, Ohio.
Dr. Hurwitz worked closely with Mr. Malone, and designed a treatment plan that met his unique needs. Mr. Malone was happy with the results, which looked natural and produced a more toned appearance for the chest.
About The Doctors
The Doctors is an internationally syndicated talk show produced by Dr. Phil McGraw. The hour-long program covers a variety of topics related to health and wellness. The show debuted in 2008. The Doctors airs in the United States, Canada, Mexico, Ireland, Finland, Sweden, and Australia. Check your local listings for stations and airtimes.
Additional Dr. Hurwitz Appearances in March
In addition to his appearance on The Doctors, Dr. Hurwitz will also deliver a guest lecture at the Northeastern Society of Plastic Surgeons (NESPS) on Saturday, March 11. The NESPS is gathering in New York City for a spring workshop focused on breast augmentation and enhancement surgery. Dr. Hurwitz's lecture is about women undergoing a breast lift (mastopexy) after massive weight loss.
More information on the lecture can be found by visiting nesps.org.
Contact the Pittsburgh Center for Plastic Surgery
To learn more about the surgical correction of gynecomastia and other topics related to body contouring, contact the cosmetic surgery practice of Dr. Dennis Hurwitz. Pittsburgh Center for Plastic Surgery can be reached directly using the contact information below.
Pittsburgh Center for Plastic Surgery (Main Office)
3109 Forbes Avenue, Suite 500
Pittsburgh, PA 15213