Dr. Hurwitz Develops Advanced Body Contouring Techniques for Men
By Dennis Hurwitz on May 08, 2014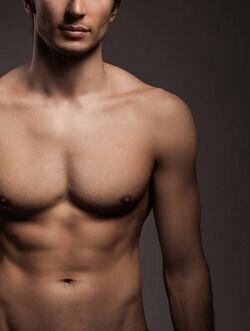 Pittsburgh, Pennsylvania - Dr. Dennis Hurwitz has been committed to employing the most advanced cosmetic plastic surgery techniques throughout his career. He has recently made major contributions to male body contouring surgery, with a focus on helping muscular males address problems with gynecomastia and other problems related to the torso and upper body. Dr. Hurwitz will continue to make advances with regard to male body contouring, and as he does so, he will shares these findings with his colleagues in order to advance the field as a whole and refine his techniques. He recently presented these techniques at the annual meeting of the American Association of Plastic Surgeons in April, and will again present these techniques at the upcoming Ohio Valley Society of Plastic Surgeons meeting in June. In doing so, Dr. Hurwitz is helping to pioneer new territory in aesthetic enhancement for men and women alike.
The Male Body Contouring Technique In Question
Dr. Hurwitz's innovation for male body contouring helps improve the results of male breast reduction as well as male body lift procedures. Performed in either one or two stages depending on the needs of the patient, Dr. Hurwitz's techniques will address issues with gynecomastia and also improve the overall skin tightness of the upper and lower body to better emphasize the superficial muscles underneath. This involves the consideration of horizontal and vertical tissue removal to better display the musculature of a man's body.
This new technique means men who undergo these revolutionary body contouring techniques will look much more athletic and muscular than they would with more traditional body lift procedures. The results are quite dramatic and quite desirable as well, especially for men who are naturally more muscular or broadly built in the chest, shoulders, and torso.
Professional Acclaim for These Innovations in Male Body Contouring
Dr. Hurwitz presented his approach to male body contouring at the 93rd annual meeting of the American Association of Plastic Surgeons, which was held in Miami Beach, Florida, April 7, 2014. The response from Dr. Hurwitz's colleagues was very positive given how this breakthrough in male body contouring yields such excellent surgical results.
Further Presentations On Male Body Contouring Coming Soon
Dr. Hurwitz will be presenting his body contouring breakthroughs again later this year at the 57th annual meeting of the Ohio Valley Society of Plastic Surgeons. The meeting will be held from June 5th through June 7th at the Greenbriar Resort in White Sulphur Springs, West Virginia. The session paper will be presented in resident competition with Dr. Lino Mieli, and the ensuing discussion with colleagues after the presentation should prove enlightening.
What These Advances Mean for Patients
Dr. Hurwitz pays close attention to the nature of each patient's anatomy and tailors each treatment to his needs. These breakthroughs in male body contouring demonstrate the level of attention that Dr. Hurwitz has to his male patients.
Through continued refinement and additional research, Dr. Hurwitz hopes to make further breakthroughs in how to serve both male and female patients alike. The aim is to determine how to enhance the unique physiology of the patient thanks to carefully considered surgical know-how supported by years of experience.
Learn More about Body Contouring Surgery at The Pittsburgh Center
If you would like to learn more about all of your options for advanced body sculpting, as well as facial rejuvenation and general aesthetic enhancement, it's important for you to get in touch with Dr. Dennis Hurwitz and his team.
Pittsburgh (Main) Office
3109 Forbes Ave, Ste 500
Pittsburgh, PA 15213
Ph: (412) 802-6100
Chadds Ford Office
1224 Baltimore Pike, Ste 100
Chadds Ford, PA 19317
Ph: (866) 473-2570
Beverly Hills Office
456 N Roxbury Dr, Ste 1001
Beverly Hills, CA 90210
Ph: (866) 473-2570
Sau Paulo Office
Al Joaquim Eugenio de Lima 1674
Sau Paulo, Brazil 01425
Ph: (866) 473-2570