Dr. Hurwitz Designs Oblique Flankplasty Technique
By Dennis Hurwitz on July 31, 2017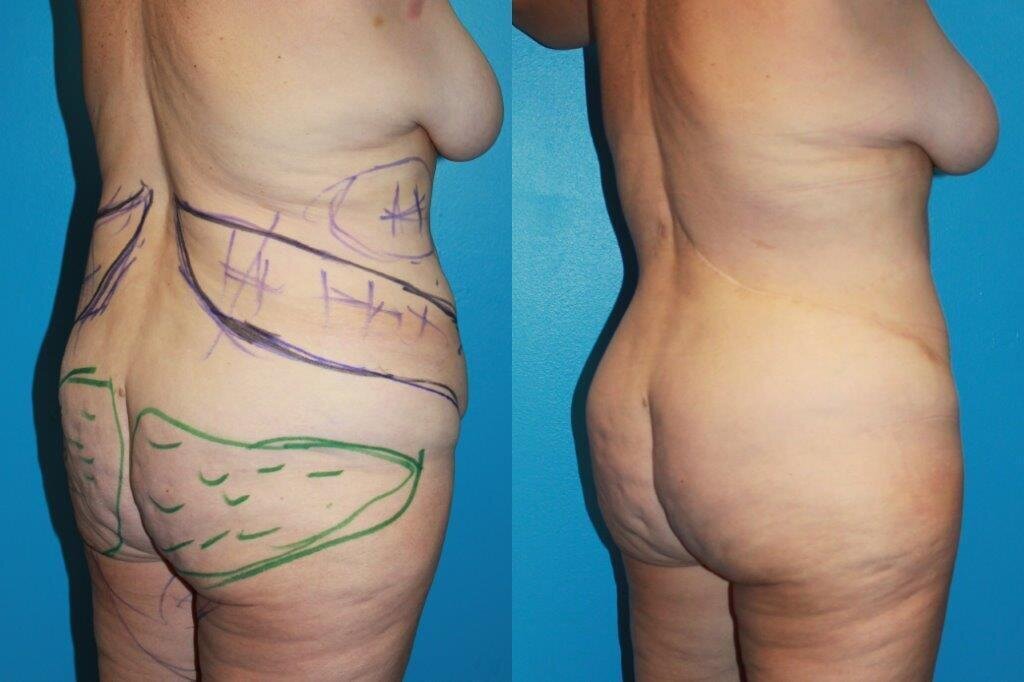 Pittsburgh, PA - Pittsburgh Center for Plastic Surgery is proud to offer oblique flankplasty. This original body contouring procedure slims patients' waists, with results that go beyond those seen after traditional lower body lift surgery.
Dr. Dennis Hurwitz, a recognized plastic surgery innovator, has achieved consistently excellent results with oblique flankplasty. He published the first scientific description on oblique flankplasty last year and has presented findings on the procedure to plastic surgery colleagues for the last two years.
About Oblique Flankplasty
Oblique flankplasty is a body contouring surgery that targets the bulging flanks and sides of the torso. The procedure involves the obliquely oriented excision of excess fat and skin between the lower ribs and the pelvic brim, followed by a plastic closure. By this process, patients obtain slimmer, fitter waistlines with a smoothly transitioned silhouette from the lower rib cage to the buttocks.
Oblique flankplasty was created in 2008 to target oversized love handles in men. The procedure was then tailored to women in 2012. In selected body types, oblique flankplasty can be the ideal procedure to address body contour problems following massive weight loss, pregnancy, and the effects of aging on the skin.
The Results of Oblique Flankplasty
Patients who undergo oblique flankplasty no longer suffer from bulging waists. There is a low incidence of post-operative complications, which have been minor, and the lower back oblique scar predictably fades over time. Most oblique flankplasty patients are ecstatic with the result and recommend it to their friends.
Critically Assessing New Surgeries to Help Patients
Dr. Hurwitz authored the first scientific description of oblique flankplasty in his textbook Comprehensive Body Contouring: Theory and Practice, which was published by Springer.com in January 2016. Oblique flankplasty is an example of some of the latest creative work by Dr. Hurwitz in body contouring surgery.
Over the last two years during invited scientific lectures, Dr. Hurwitz has presented this surgical technique at the Aston Baker Cutting Edge Aesthetic Surgery Symposium in New York City, the International Master Course on Aging Science (IMCAS) in Paris, University of Pittsburgh Plastic Surgery Grand Rounds, and the 36th Jornada Paulista Plastica in Sao Paulo, Brazil.
Forthcoming Presentations on Oblique Flankplasty
Dr. Hurwitz's next scientific paper presentation on oblique flankplasty will take place at the 34th annual meeting of the Northeastern Society of Plastic Surgeons (NESPS). The event is being held in Newport, Rhode Island, from September 8th through 10th.
Dr. Hurwitz will later be describing the procedure at the annual meeting of the American Society of Plastic Surgeons (ASPS) in Orlando, the Global Aesthetic Conference in Miami, and the Pan Pacific Surgical Symposium in Hawaii.
Multiple Options for Effective Body Contouring
Oblique flankplasty is one of many operations designed by Dr. Hurwitz to address the body sculpting needs of his patients. Dr. Hurwitz designs Total Body Lift treatments that includes oblique flankplasty with tummy tuck surgery (abdominoplasty), ultrasonic (VASER) assisted liposuction, J Torsoplasty upper body lifts, Spiral Flap breast reshaping, L Brachioplasty, and Spiral vertical thighplasty to anticipate the most ideal aesthetic results.
A Commitment to Patients and the Plastic Surgery Field
Dr. Hurwitz continues to explore and consider these new frontiers in cosmetic surgery to improve patient satisfaction and enhance a patient's overall experience. With more than 35 years of expertise, Dr. Hurwitz hopes to use that wisdom to help patients at his practice while passing that knowledge on to the next generation of plastic surgeons around the world.
Contact Pittsburgh Center for Plastic Surgery
For more information about oblique flankplasty and how it can benefit you, be sure to contact Pittsburgh Center for Plastic Surgery today. The practice can also be reached directly by using the information provided below.
Pittsburgh Center for Plastic Surgery
3109 Forbes Ave, Suite 500
Pittsburgh, PA 15213
(866) 807-8789