Dr. Dennis Hurwitz Pioneers New Procedure: Total Body Lift
By Dennis Hurwitz on January 26, 2015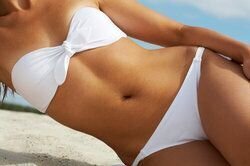 When a person who has struggled with morbid obesity loses a massive amount of weight, whether through diet and exercise or bariatric surgery, it represents a victory on many levels. Unfortunately, for many formerly obese people, it also leads to an issue they might not have foreseen, namely the presence of excess skin and other tissues that remain on their bodies after the pounds have been dropped.
While plastic surgery has long offered a solution to this issue in the form of body contouring surgery, it has sometimes been an imperfect solution. This is because massive weight loss often resulted in excess skin and tissues that lingered all over the body rather than in isolated areas. As a result, body contouring procedures had to be performed independently of one another over a period of time; the thighs, for instance, would be re-contoured independently of the breasts, which would be re-contoured independently of the abdomen, and so on. This approach left many patients feeling self-conscious about their appearance until their final surgery, which might take place years after the first.
Realizing that this disjointed approach to post-bariatric body contouring needed to be improved upon, Dr. Dennis Hurwitz began to think about the various procedures typically performed on such patients in a more holistic manner. This led him down the path toward one of the most innovative techniques he has developed in his career thus far, the Total Body Lift (TBL) procedure.
What is the Total Body Lift (TBL)?
In general, body contouring procedures have tended to be fairly compartmentalized. Abdominoplasty deals with the abdominal region; thighplasty with the thigh region; breast surgery with the breasts. This is certainly a logical way of contemplating procedures, especially since most patients have complaints about specific areas of their bodies. Even patients who have complaints about multiple regions of their bodies - new mothers who wish to undergo "mommy makeovers," for instance - can generally pinpoint those regions with some specificity: the breasts, the tummy, the buttocks, the thighs.
For patients who have lost massive amounts of weight, however, the issue of lingering excess tissues often cannot be pinpointed to exact regions. For example, it exists not only in the chest and in the abdominal region, but also in the area between. Therefore, the only way to adequately address the re-contouring of the post-bariatric patient's body is to consider larger areas comprehensively rather than as an accumulation of individual parts.
Dr. Hurwitz pioneered a technique by which body contouring can usually be accomplished in two stages. The first comprehensively addresses the lower body while the second comprehensively addresses the upper body. In select cases, patients may be able to undergo a single-stage Total Body Lift; at maximum, Total Body Lift will require only three stages. Years' worth of body contouring surgery can be collapsed into a fraction of the time using this method, while the results are more dependably aesthetically pleasing. As long as patients are healthy enough to undergo surgery, they are generally suitable candidates for the procedure.
Learn More about Total Body Lift (TBL) Surgery
To learn more about Total Body Lift (TBL) surgery, or to schedule a consultation to find out whether you are a suitable candidate for the procedure, please contact the Pittsburgh Center for Plastic Surgery today.