Choosing Between Saline and Silicone Breast Implants
By Dennis Hurwitz on January 16, 2014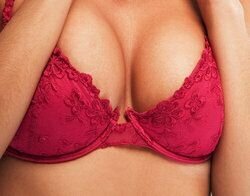 With breast augmentation surgery, women can gain a renewed self-image and achieve the curves they've always wanted. No matter one's body type or desired breast size, most women can benefit from an augmentation procedure with little associated risk.
At our Pittsburgh plastic surgery center, we offer multiple surgical techniques and implant types to accommodate all potential candidates. When it comes to implant types, both silicone gel and saline are considered safe, effective materials. Still, there are a few important differences between them that should be considered prior to surgery.    
Choosing an Implant Type
Most patients considering breast augmentation can achieve satisfactory results from either type of implant, but each one has its own advantages. Generally, saline implants are chosen for their surgical convenience, limited scarring, and easy post-operative care. On the other hand, silicone can provide a superior appearance for many patients. It should also be noted that the benefits and drawbacks of each implant material will vary among patients: some women can take full advantage of the practical benefits of saline, while other women may gain more visible cosmetic benefits from silicone. Ultimately, the decision is best made collaboratively with your plastic surgeon after a comprehensive consultation.
Benefits of Saline Implants
Saline implants are filled with a salt water solution after they are inserted into the breast. This allows certain advantages during and after surgery:
Smaller incisions: Because the implants are filled after being placed in the body, incisions do not need to be as large. In turn, there is less visible scarring after surgery.   
More incision options: Saline implants can almost always utilize peri-areolar incisions (around the nipple), which have little scarring and rapid healing. They can also be inserted through transaxillary incisions (under the arm), which leave no scars near the breast.  
Fewer capsular contractures: All breast augmentation surgeries are associated with the possibility of capsular contracture, in which scar tissue tightens around an implant, leading to discomfort and possible rupture. However, saline implants have a lower rate of contracture, and may be placed below the mammary gland to further mitigate risk.
Noticeable ruptures: If a saline implant eventually ruptures, it will be immediately apparent as the breast appears to "deflate." This allows the problem to be addressed as soon as possible. Moreover, saline is absorbed naturally into the body, resulting in no ill side effects.
Disadvantages of Saline Implants
Because saline implants are filled with liquid, their shape and consistency tend to be less realistic than silicone implants. Saline implants tend to be responsible for breasts that appear unusually round or firm, most notably when augmenting breasts by multiple cup sizes. Although this is a common drawback to saline, it is not necessarily undesirable for all patients, and women who already have moderate- to large-sized breasts may find the aesthetic differences between saline and silicone negligible.
Benefits of Silicone Implants
Women who want their implants to look as realistic as possible are likely good candidates for silicone. Benefits of silicone implants include:
Natural shape: Because silicone gel is similar in consistency to body fat, it preserves the shape of the breasts while augmenting them. "Teardrop" implants are also available for silicone, further promoting the breast's natural contours.
Natural texture: Whereas saline has a tendency to make breasts overly firm, silicone mimics the even texture of breast tissue. This difference is especially important when augmenting breasts without a large amount of natural fatty tissue.
Disadvantages of Silicone Implants
Unfortunately, silicone implants must be pre-filled, meaning surgical techniques are somewhat limited. Traditional incisions can be made under the breast and sometimes around the nipple, depending on areolar size and implant size. Due to larger incisions, scarring also tends to be more visible.
Years after surgery, patients can expect some chance of eventual capsular contracture or rupture, both of which require revision surgery. Although all implants are subject to this chance, a rupture in silicone implants is harder to detect due to small, gradual leaks. It is therefore advised that patients undergo an MRI scan every couple of years to aid in the detection of ruptures.   
Schedule a Consultation
With over 30 years of experience in plastic surgery, Dr. Hurwitz can help you make the best decisions for your breast augmentation, in all regards. Contact us to schedule an initial consultation and learn exactly how our cosmetic procedures may benefit you.