Cheek Augmentation Techniques
By Dennis Hurwitz on July 02, 2013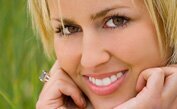 There are many studies that show that people define beauty based on symmetry, proportions, and angles. Based on these premises and his artistic eye, Dr. Dennis Hurwitz offers his patients cosmetic procedures to produce a more attractive contour to the face and body. At his plastic surgery practice, cheek augmentation is one such procedure that can greatly improve the contour of a patient's face by adding volume to the cheeks. This surgery is well-suited for either patients who have lost volume in the cheeks as a result of aging or for those who do not naturally possess strong cheek bones.
Many patients complain that weak cheek bones give the face a tired, gaunt appearance. The lack of strong cheek bones can also create a lack of definition in one's facial features. Dr. Hurwitz can address these concerns and create more prominent, attractive cheeks for his Pittsburgh patients with cheek augmentation. There are actually a number of techniques that can be used in order to create this volume. All options can be discussed with Dr. Hurwitz so that the best choice for each individual patient can be determined. One of the first decisions to be made will be:
Liquid vs. implant: Volume for the cheeks can be created using either a liquid filler or a cheek implant. Cheek augmentation achieved through dermal filler injections are not considered permanent and will require touch-ups. However, this may be a good option for patients who wish to avoid surgery. Patients who choose to undergo surgery and have an implant placed will achieve permanent results. They will also be able to choose from implants of a number of different shapes and sizes in order to achieve their specific desired results.
If a patient chooses to receive cheek implants, there are additional technique decisions to consider, including:
Incision site: The incision site for a cheek implant is typically made in one of two places. Dr. Hurwitz can either make the incision inside the mouth, at the gum line, or through a lower eyelid incision. The lower eyelid incision is a particularly good choice if eyelid surgery is also being performed.
Implant placement: The implant will be placed directly over the cheek bone. There are two options for securing the implant. Dr. Hurwitz can create a close fitting pocket that will support the implant or the implant can be affixed directly to the soft tissue or bone.
The number of decisions and choices regarding cheek augmentation techniques can seem overwhelming, but Dr. Hurwitz is happy to explain all of the options and help patients choose those options best suited to their unique situation.
Additional Procedures
Many patients who are undergoing cheek augmentation choose to further enhance the facial features through additional cosmetic procedures. Some of the procedures that can further rejuvenate the face include eyelid surgery, brow lift, and facelift.
Schedule an Appointment
Whichever technique is chosen for cheek augmentation, Dr. Hurwitz can create the attractive proportion and contour that patients want for the face. If you are interested in learning more about cheek augmentation, schedule an appointment with Dr. Dennis Hurwitz at your earliest convenience. We look forward to working with you!