Breast Augmentation Prices and Payment Options
By Dennis Hurwitz on September 02, 2013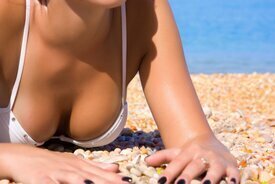 If you want to look your absolute best, it's important to take care of yourself. That means eating right, staying active, hydrating properly,
Diet, exercise, and practical skin care can do a lot, but they will only be able to go so far. That's why one of the best ways to achieve all of your aesthetic goals is to consider plastic surgery. One especially popular option for advanced aesthetic enhancement is breast augmentation surgery.
About Breast Augmentation Surgery
Breast augmentation surgery involves the placement of breast implants into the breast pocket. These implants come in different sizes, shapes, and compositions, and can be placed through different incisions depending on the needs of the patient. Breast augmentation can also be combined with other breast enhancement surgeries in order to achieve the best possible aesthetic results.
The Average Cost of Breast Augmentation Surgery
The average cost of breast augmentation surgery can vary a lot based on a number of factors. Because of this, providing an average cost to the surgery or even a general price range wouldn't communicate the complexities involved in treatment. We encourage you to visit the practice so that you can receive a personalized price quote for your surgery as well as a breakdown of all the associated costs.
Factors That Affect the Cost of Breast Augmentation Surgery
The total cost of breast augmentation surgery might be affected by the following:
The location of the cosmetic plastic surgery center
The credentials and training of the plastic surgeons at the center
The complexity of the patient's case
The need for combination surgery
Special discounts or promotions unique to the practice
Health Insurance and Breast Augmentation Surgery
By and large, medical insurance will not cover any part of the breast augmentation procedure. It is generally classified as an elective surgery rather than a medically necessary one. That said, it's a good idea to check with your cosmetic plastic surgeon and your insurance provider just in case since policies do vary and your unique circumstances may qualify you for some degree of coverage.
Financing Options for Breast Augmentation Surgery
If the cost of breast augmentation surgery proves too much of a burden to shoulder on your own, there are monthly installment plans available. These can be used to pay for other surgical procedures as well, helping put your aesthetic goals within reach.
These financing options are similar in a lot of ways to a credit card. A trusted lending institution will partner with the practice and pay for the total cost of surgery upfront. The patient is then responsible for paying back the lender on a monthly basis much like a credit card or a traditional load.
Considering All of Your Options
These are big decisions and it's important that you consider all of your options for aesthetic enhancement and paying for surgery. We're here to answer any questions that you may have about the process, allowing you to achieve the look you have always wanted.
Learn More About Breast Augmentation Surgery
If you would like to learn more about breast augmentation surgery and how it may be able to benefit you, be sure to contact our Pennsylvania and Beverly Hills cosmetic surgery centers today. The entire team here looks forward to meeting you in person and helping you achieve all of your aesthetic goals.